Blog & News
You've Got the Time? We've Got the Traveling.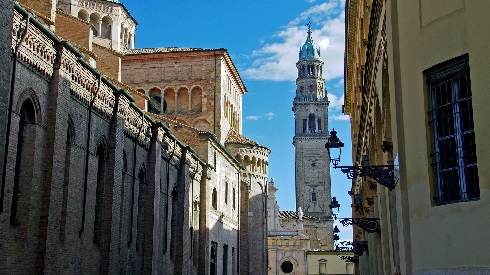 Looking For Elegance And Flair? Visit Parma, Italy And Explore Its Splendor!
If you heard about Emilia - Romagna, then you must have heard about the city of Parma in that northern region of Italy. If not, then BookingBoom.com would like to take this opportunity to introduce you to this beautiful city which offers great food, art, architecture and a city that offers elegance and flair.

As a start, please note that Parma is well connected to other major Italian cities. Therefore, whether you choose to travel by bus, train or plane, you can get to the city without difficulty. Once you get there, you might want to pay a visit to the city's Tourist Office to get an idea on how to go about exploring the area. It is located at Via Melloni, not far from Piazza della Pace.

Many tourists visit Parma for its cuisine. Parma is famous for its delectable ham known as Prosciutto di Parma and the mouth-watering Parmigiano Reggiano cheese. These ingredients are sumptuously incorporated in the local cuisine so you can be sure to indulge in foodie haven when visiting the area. If foreign food is what captures your attention when traveling, then we suggest you travel in the early part of May, as this is when the city holds a large food fair with an overwhelming selection of the best Italian dishes.

Although more famous for its cuisine, Parma also offers visitors a perfect setting for historical and cultural exploration. Rent a bicycle or go on foot and explore the city's historic center. Head to Piazza Duomo and admire the magnificent 12th century cathedral. Don't miss a visit inside the cathedral's interior because it will definitely capture your attention! The elaborately decorated baptistery is a masterpiece of Benedetto Antelami, carved out of rosso di Verona or pink marble. See how the marble seems to magically change its color when hit by sunlight and shadows throughout the day. The Duomo is also home to painted arched ceilings, magnificent frescoes and other works of art.

Another imposing structure on site is the Ducal Palace dating back to the 16th century. It is home to a superb collection of frescoes that will surely delight art enthusiasts. However, if you simply want to take a stroll, proceed to the lovely Ducal Park where you can enjoy a long walk featuring the impressive Trianon Fountain and Tempietto dell'Arcadia.

The Palazzo del Govenatore is also a popular 18th century landmark in the city. It is a beautiful piece of architecture with a remarkable astronomical clock prominently displayed on its bell tower. A stroll around Piazza della Pace is also recommended to experience the extraordinary Farnese Theatre. For your entertainment, you can book a night out at the opera to take in the impressive performances at the marvelous Teatro Regio and see you will appreciate why the theatre is famous worldwide.

It is also worth noting that Parma's countryside is home to several beautifully preserved castles dating from 14th-15th centuries. You can book a day trip to enjoy the scenic views, hike the many trails of the Apennines Mountains and enjoy the breathtaking views.

One suggestion is to make sure you allocate enough time for your trip to Parma in order to get the most of what this marvelous city has to offer.